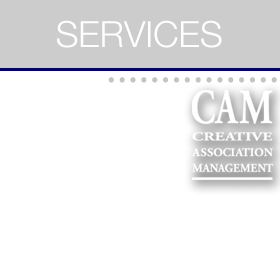 Creative Association Management provides organizations with professional, cost-effective management and administrative support. Some specific benefits of contracting with our company include:

> A level of accountability not always available at the volunteer level.

> Full support in areas such as information and financial management, marketing, public/media relations, online/print identity, meeting planning, program development, communications, and lobbying.

> Dedicated staff support with the cost savings inherent in a shared-resources relationship.

> Continuity and stability in business operations during leadership changes.

> A consistent physical headquarters — office, phone and fax number, e-mail and web presence.

> Availability of the latest hardware, software, communications systems and other technology.

> The opportunity to foster innovations through access to a wide spectrum of other client organizations' ideas, perspectives, and successful projects.

The most important benefit of all? Delegating your day-to-day business matters to our company frees your organization's leaders to focus on your association's mission rather than dealing with administrative tasks.

Creative Association Management will work with you to grow your association's membership and revenues through a fully-integrated management and communications program — a program designed to increase membership benefits, involvement, and ownership. We provide these services with a strong sense of urgency, honesty and integrity, accountability, and customer-focused strategies.

Some of the services provided by Creative Association Management include:

Board Support

Membership Recruitment/Retention

Member Communications

Special Event Management/Meeting Planning

Website Management

Database Management

Marketing

Publications

Non-Dues Revenue Programs

Surveys/Evaluations

Continuing Education

Chapter Recordkeeping and Reporting

Working together, we can help build a program that will take your organization to an even higher level. Creative Association Management believes strongly in the teamwork concept of planning, organizing, and implementing programs that will achieve results. As we work with you to grow and strengthen your association, we will share your pride in the results of our collective efforts.