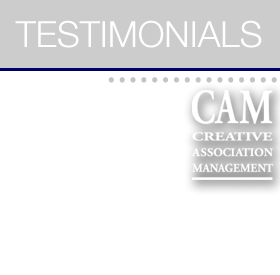 "The Broker's Health Insurance Network contracted with Creative Association Management and Joe Pittman late in 2010, after our existing Executive Director left to take another position. Shortly thereafter, I was elected President of the organization.

I consider myself fortunate to have worked with Joe over the last two years. Joe's ability to organize and assist an organization made my job easy! Our meetings improved due to better planning and organization, and our intra-association communications improved immeasurably.

Now that my term has expired, I feel like our association and its members have benefited from our relationship with CAM, and I leave office with a job well done, thanks mostly to Joe and his organization."

— Eric M. Neishloss, President, Broker's Health Insurance Network


"I am a recent past President of the Independent Insurance Agents of Omaha. Coming up through the chairs on the board the years before becoming President, and even during my term as President, Joe Pittman was a Godsend! His expertise in handling all things pertaining to the operation of our organization was spot-on! He knows the ins and outs of all aspects of what needs to be done to run a successful organization, from finance to printing name tags.

Quite honestly, I don't think our Board and group as a whole would be as successful as it is today without Joe. He brings fresh ideas to the Board, such as the new banner to display at meetings to the most recent addition of the time- and money-saving new website for our group. He is a class act and someone that any organization would be privileged to have working for them."

— Amy Hruska, Past President, Independent Insurance Agents of Omaha


"I have had the pleasure of working with Joe for many years. I can state, unequivocally, that the Nebraska Association of Health Underwriters would not be the successful association it is today without Joe Pittman. We tried for years to run the association with volunteer members and failed. Joe's professional management skills took us from the brink to a member-centered organization.

The world of the licensed insurance agent is changing, almost daily. Volunteer leaders need someone they trust to help them guide the association. Joe brings his years of experience in association management and experience in our industry to help make us all better. We are what we are today because of a decision we made to engage Creative Association Management."

— Mike Gray, Immediate Past President, Nebraska Association of Health Underwriters


"I have worked with Joe Pittman for several years as a board member of FPA. Without Joe's leadership, we would simply not exist as an organization. Joe's professionalism and reliability are second to none. He always gets things done on time and to our complete satisfaction. Joe and his company, Creative Association Management, have my highest recommendation."

— Lance Jones, CFP®, Past President, Financial Planning Association of Nebraska


"I have had the good fortune, distinct privilege, and the true honor of working with Joe Pittman when the National Association of Insurance and Financial Advisors-Omaha (NAIFA-Omaha) engaged Joe and his firm, Creative Association Management, as our professional management firm. What has transpired over these past 15+ years is a true partnership and friendship that is both unique and mutually rewarding — we could not have asked for a better professional and personal relationship over all these years. Joe is first class and goes the extra mile.

The compelling attributes and hallmarks reflective of Joe Pittman and Creative Association Management are attention to detail, financial management stewardship, creative ideas to advance the organizational mission, vision, goals, and growth of financial results through non-dues revenue opportunities — and perhaps most importantly, impeccable integrity, consistency of performance that exceeds expectations, and placing the association's best interests first and foremost at all times. This is a partnership that is enduring for the long-term and results in successful outcomes for the client organization."

— Terry K. Headley, FSS, LUTCF, NAIFA-Omaha President (1987-88); NAIFA-NE President (1992-93); NAIFA National President (2010-11)


"In my roles as Omaha Chapter Officer or as National Advisor of the Society of Financial Service Professionals, I have worked with Joe Pittman — as Chapter Executive — for more than 10 years. I have found Joe to be a person of high integrity. He has excellent organizational skills that are necessary in working with a volunteer organization. Joe has helped clearly define his duties as chapter executive and the duties of the volunteers within the chapter. This has helped to hold the volunteers accountable to completing their duties. Joe has been instrumental in the Omaha Chapter winning the Gold Medal of Honor Chapter Award since he has been Executive Director. Joe has brought consistency and continuity to the chapter in a positive way."

— Jim Lammers, Society of Financial Service Professionals

As a past PRSA Nebraska president and an active volunteer, I have worked closely with Joe Pittman and Creative Association Management over the years on our organization's administrative and financial needs. What I love about Joe and his team is that they are quick to respond, professional and make deadlines. And because of Joe's experience working with a variety of organizations, he has great input and recommendations when we are in need of various products and services. I would highly recommend Creative Association Management for any organization.

— Kristine Gerber, Past President, PRSA Nebraska


"I have worked with Joe for two years as an officer on the AFP-Nebraska Board. Joe is organized, professional, and brings great ideas to the table for our association. His integrity, flexibility, and forward-thinking have been appreciated by all of us."
— Meg Johnson, Immediate Past President, Association of Fundraising Professionals, Nebraska Chapter